Health Services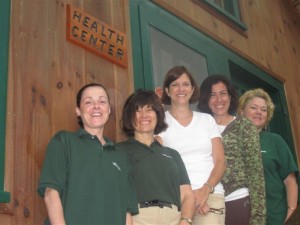 Wyonegonic is staffed with two Registered Nurses who live in residence. Our nurses work under the standing orders of a doctor who is located fifteen minutes away. The doctor is associated with the Bridgton Hospital, a reputable country hospital outfitted with an emergency room, urgent care facility and six family practices located around the Lakes Region.
Our goal is to keep campers healthy so they can partake fully in camp program. Everyone in camp is required to have a current health history on file and, in addition, a doctor's exam dated within 24 months of arrival at camp. A nurse is on duty 24 hours a day for emergencies.  Personal medications are distributed by our nurses before meals on the dining hall porch. Health Center hours are held after meals for minor needs of any camper who desires to see the nurse. If a child is admitted "in house" for observation, a nurse remains in the Wyonegonic Health Center. If a child has symptoms that extend beyond the standing orders, a nurse accompanies the camper to the doctor. Parents are informed of doctor visits, any serious health concerns or "in house" visits that exceed two days.
Our trip leaders hold a multitude of certifications and also have proper training and instruction to act on behalf of the Wyonegonic nurses. This ensures the proper chain of command for direction from the doctor's standing orders. For example, the trip leader distributes required medications, handles emergencies and has the contact information of the nearest medical facilities.
Our nurses play an important role beyond the confines of the Health Center. They are encouraged to "get out" and see campers in their activities, eat meals in the dining room and report to the directors any observations that would improve our carefully formulated risk management plan.
Wyonegonic aims for 100% compliance on the "Health and Wellness" section of the American Camp Association Standards and the State of Maine licensing rules required for youth camps and health center procedures.
All campers, staff and training clinic participants are required to provide Wyonegonic with a health history before arriving at at camp. Please click here for more information.
Food Services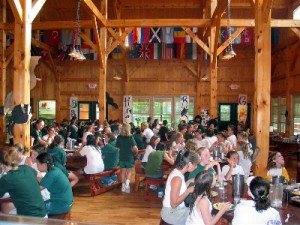 We provide nutritious, delicious and varied meals. Our menus are planned with fresh, natural and seasonal ingredients in mind. Meals are served in the Cobb Dining Hall, a beautiful, spacious post and beam lodge built in 2001. Breakfast and dinner are served family style, with two counselors and eight campers per round table, conducive to engaging conversation. Seating is assigned weekly. Granola, yogurts, hot cereal, fresh fruits and cocoa are available each morning. We serve a creative vegetarian option for dinner and are flexible with special diets. Sunday breakfast is designed as a lazy breakfast buffet and the girls come in their pajamas. In the interest of health, we do not use a fryer and we avoid high fructose corn syrup and trans fats.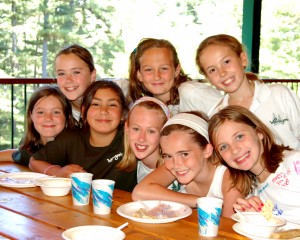 Lunch is buffet style with many healthy choices. Campers sit with friends at picnic tables on our wraparound porch. The hot option is accompanied by a salad bar, a deli sandwich bar with whole grain breads, a homemade soup station, a PB&J table and fresh fruit.
Campers' favorite dinners include roast turkey with all the fixings, chicken stir fry and pasta night with three pastas, toppings and sauces. We have theme days for international awareness and serve a Saturday night cookout in the three units where visiting parents are welcome to join us for burgers, hotdogs, veggie burgers, chips, three salads, watermelon and congo bars.
Our kitchen is staffed by three chefs, certified in kitchen safety and sanitation. Six international college age staff help with food prep and dish-washing.  Campers set and clear tables and take turns sweeping after each meal. To support our "green" initiative we recycle tin, plastic, glass and cardboard. We compost, serve breakfast and dinner on Syracuse China, use fast degrading paper products for our buffet lunch and purchase locally when seasonal products are available. For example, we purchase our granola  from a local organic bakery, Grandy Oats, located in the neighboring town of Brownfield and we utilize Fryeburg's Sherman Farms for fresh produce.
Healthy food, variety and introduction to different foods is important to us at Wyonegonic.