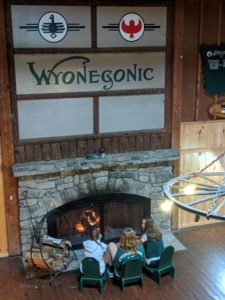 July 4th has come and gone. This was always a special day at camp, so I found myself thinking about Wyo and, most importantly, all of you. This certainly is a strange time in the world. When I first heard the news that Wyo would suspend the summer, I kept thinking how could this be? How can I survive a summer without camp, without my friends, without evening circle, or crazy EPs? My thoughts quickly returned to all of you, my campers. Campers need camp. This pandemic is robbing everyone apart of the camp community of an experience that is sacred, needed, beautiful, and transformative. However, as Wyo has taught us, when one door closes, a window opens. We will persevere and get to a point where this scary and uncertain time creates a clear perspective on life and who we are as Wyonegonic women.
Each day I hang onto my Wyo experience and dreams, for memories of the shores and pines provide hope and happiness for me regarding our world. I hang on for me and for all of you. We WILL be back on Moose Pond and we WILL be together again enjoying splashing in the lake, climbing mountains, swinging from the crow's nest, sitting on the cabin line just listening to the Maine sounds, and being part of our very special community. When I think about these moments I can almost hear your laughter, smell the pines and breath the crisp Maine air. So, as sad as I am and, yes, I have certainly felt "campsick", I have come to realize that being away from camp is giving me a new perspective. I want you each to experience this as well. This perspective on the meaning of my camp experience has encouraged me to find new ways to lead and look forward to improving myself as a counselor for next summer, which will be the best summer yet.
During this reflective time I have deeply pondered on our camp themes such as, ONE WYO, FIND the KIND and BE BRAVE. Maybe during the camp season, I have been too busy to think of the true meaning behind these words and how they relate to our experience. However, with the obvious reasons the state of the world is scary and difficult right now, I have also been able to realize the meanings of our themes in my life, not just during the summer months.
This summer my wish for each of you is to practice what we practice at camp: inclusivity, bravery, and kindness. I wish for you to take what you have learned at camp and implement these values into your own communities to make them better. I wish that you will remember the wonderful and challenging lessons you have learned at camp, for among these old lessons we have learned at Wyo, we are learning new things everyday as the world navigates uncertainty.
So, my dear campers, I hope the lessons you learn this summer encompass appreciation, patience, and resilience. We will be together again and we will be stronger than ever. You are strong Wyo women whether this was to be your first summer or your 10th summer. We know how to meet adversity and make a challenging situation into a great opportunity.
Knowing that we will be back on Moose Pond next summer, take advantage of this summer, for we will only experience something like this once in a lifetime. Keep spreading the Wyo magic each day, and always remember that you have a counselor that loves you very much, believes in you, misses you and most importantly, cannot wait to be with you in 2021.
Kiyi,
Your Counselor