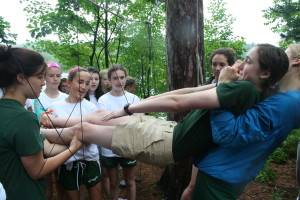 The iconic, magical image of camp, is one in which children are outside, carefree and laughing; away from the stressors of school, homework and technology. Yet, with October being National Bullying Prevention Month, even camps are turning their attention to the problem of bullying and how they can help their campers to prevent it. Bullying is an intentionally hurtful act against another, typically done for power acquisition or social dominance. In 2006, the Parent Advocacy Coalition for Educational Rights initiated a week long affair to raise awareness of bullying prevention. The event gained support and recognition and has grown into the month long event that it is today. Bullying incidences continue to occur at an alarming rate with twenty to thirty percent of children reporting being bullied last year. Simply reflect on your own experiences, or that of your children's, regarding bullying. It is a ubiquitous problem not limited to any definitive time or place.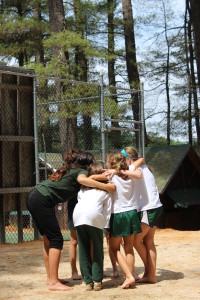 Bullying incidents can happen in any variety of environments. However, camps promote environments that emphasize respect and inclusiveness. Camps nourish the emotional and physical growth of a child recognizing that this is grounded in the basic need of feeling safe. Just as we put a safety helmet on when a child rides a horse, camps teach and model kindness, tolerance, inclusion and advocacy skills which in turn help campers learn and strengthen the skills required to prevent bullying. At camp, campers learn to make connections with others, respect differences, and speak up if the need arises.
At the closing of one of our sessions, campers reflected upon what they were most proud of. Girls shared stories of learning to swim, making new friends, overcoming their fears of spiders, and sleeping out in the woods for the first time. One comment particularly resonated with me, "We were the most different cabin, but we were definitely the closest and I am most proud of that." That statement reflects all that is embedded in and all that camp works towards in preventing bullying. Creating an environment that embraces differences, reduces bullying.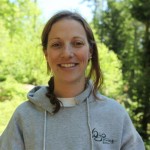 PACER's message for National Bullying Prevention month is "the end of bullying begins with me." Think about how this message pertains to your child and specifically how camp modeled and supported inclusiveness, tolerance and kindness. How can we continue to teach these characteristics?
Rachel Kelly, Intermediate Unit Director