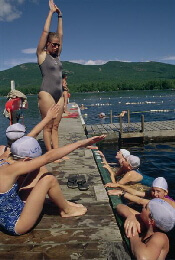 Purpose: To train candidates in the American Red Cross Aquatics Program including teaching children and adults to swim, and giving water safety presentations to kids and their parents. Refer to American Camp Association Accreditation Standards for appropriate water sport training requirements.
Dates:
Saturday June 6th starting at 9am – Wednesday June 10th finishing by 6pm
Please note that the WSI training is a full-time commitment for the five day training. This includes morning, afternoon and evening classes and coursework. Students will need to have online access prior to arriving at the training to pre-register with the Red Cross. Some reading or course work may also be assigned in the few weeks prior to the training. We will aim to be finished by 6pm on the final day of class but this will remain at the discretion of the instructors.
Cost: $415
Prerequisites:
The minimum age is 16
Excellent physical condition and strong swimming strokes
Only participants who pass the swimming pre-test (at the beginning of course) will be allowed to continue.
Candidates must demonstrate proficiency in all strokes (minimum Level 4) and basic water rescue skills.
Certifications: American Red Cross Water Safety Instructor (WSI)
Comments: Please note that all aquatics courses are physically demanding and occur in a fresh water lake. Expect to be in the lake multiple hours each day. The temperatures in June can be extremely cold. We require that you bring a wetsuit. Lifeguard Certification is highly recommended for anyone teaching children on the water.