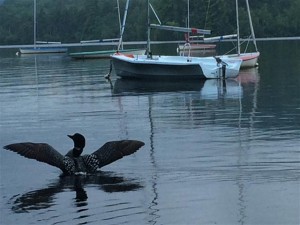 With the weather getting colder,  the daylight hours short, and the school and work schedules getting ever more hectic it is often easy to spend the day cooped up inside the car, home, school or office. But as tempting as the warmth of your home can be after a long day, I urge you to get outside!  Breathe the fresh air, listen to the sounds of nature, and enjoy the sights (even if it is a "dreary" winter day).
Last summer, Wyonegonic campers spent every waking moment outdoors. They were engulfed in nature: they enjoyed the sweet smell pine in Grove as they pulled pine needles apart, they watched summer storms roll over the mountain, and they fell asleep to the calls of the loons. They learned to live in nature, embrace it, and appreciate it.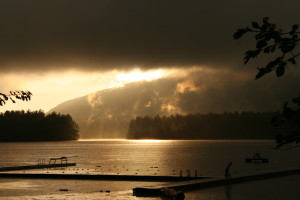 It is well known that being in nature has countless benefits to our cognitive, emotional, social and physical well-being. Yet, Children and Nature, a movement connecting children, families, educators and families with nature, reports that in one week, only six percent of children ages nine to thirteen play outside on their own.  In 2010, the National Wildlife Federation (NWF) issued a health report Whole Child: Developing Mind, Body and Spirit Through Outdoor Play  providing research and support for the positive influence unstructured outdoor play has on children. In the article Why Be Out There, NWF reports
Children who play outside are more physically active, more creative in their play, less aggressive and show better concentration. (Burdette and Whitaker, 2005; Ginsburg et al., 2007)
Sixty minutes of daily unstructured free play is essential to children's physical and mental health. (American Academy of Pediatrics, 2008)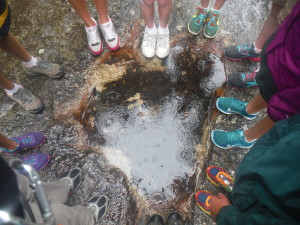 At camp, children develop an intimacy with nature. They engage with nature through structured activities and unstructured play. They feel the cold early morning fog of Moose Pond, splash in puddles, and bask in the sunlight filtering through the towering pines. This winter, please continue to nurture and develop this intimacy.
There are a variety of resources that offer suggestions as to how to experience nature. In his book, Last Child in the Woods, Richard Louv describes a phenomena, nature deficit disorder in which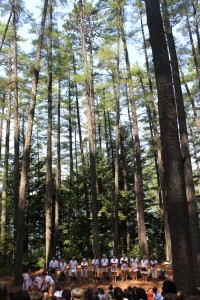 children do not share in these experiences. At the conclusion of his book, Louv provides suggestions and activities to spark interest in and develop an understanding of nature. Education.com also offers several ways to fuse academic concepts with nature. Family Education provides a list of activities that will engage children of all ages outside.
Many of the activities require just a little bit of imagination, time and energy; yet they have a powerful payoff. How will you encourage your family to get outside? Go ahead and watch the snowfall, listen to the cold wind, watch the birds, or just wander around your neighborhood. Even in the coldest months of the year, nature can surprise you.
Rachel Kelly,  Intermediate Unit Director and Program Development Coordinator