Dear Parent,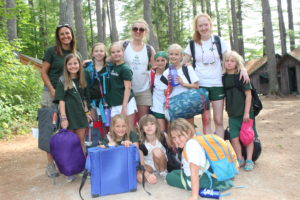 You're about to do something brave, and terrifying, and important: you're about to send your child to summer camp. This child that you've spent every waking moment thinking about, caring for, motivating every decision you make around since before she was born. This child you know like the inside of your own mind. This child that drives you totally nuts but you love more than literally anything in the entire world. And you're giving them to me – a young adult who you've never met in your entire life, to care for.
I can't imagine how scary that might be. I can't imagine what it's going to feel like driving home without them. I can't imagine what it will feel like to wonder how they're doing; are they making friends? Are they growing? Are they learning? Are they happy?
I can't imagine what that feels like, so what I can do is tell you what I promise.
I promise I'll never take for granted that this child is someone's most important human being in the world.
I promise I'll do everything I can to keep her safe – emotionally and physically.
I promise that her growth and happiness are my personal goals for the summer.
I promise to find the things that make your child special, and celebrate them, cultivate them, let her know how cool they are.
I promise to look you in the eye and shake your hand when I meet you, and to discuss any concerns you have about your child – or me – this summer.
I promise to be a role model for her that you'd be proud of.
I can't promise she'll never be sad. But I can promise I'll be a shoulder to cry on and a listening ear and a comforting voice.
I can't promise I'll fight all her battles for her. But I can promise I'll be there to mediate them and make sure she feels heard, and learns how to solve the problem productively.
I can't promise she'll enjoy every waking moment of her summer. But I can promise I'll do everything in my power to make sure she has some of the best experiences of her life here.
I can't promise she'll never fail. But I can promise to help her succeed, and to build her up to see her failures as opportunities, to be a strong girl who can move on from the losses and dust herself off.
I can't promise she won't get covered in mud. But I can promise she'll have a blast doing it, and that she won't stay covered in mud.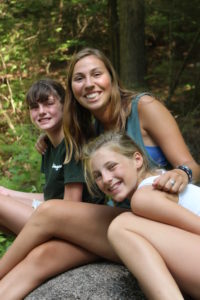 When she's homesick, I'll listen, and seek out help from other campers and staff members. If she's the type of kid who's the star of the show and the center of the room, I'll encourage her to become the best leader she can be. If she's the type of kid who hangs back, who needs a little time, who doesn't quite know how she shines yet – I'll help her figure it out, and celebrate her for being her.
Whether this is your first time dropping her off at camp or the ninth, I'll be just as committed to her growth and happiness. I can't wait to see her eyes light up when the Spirit Princess canoes across the lake in the night. I can't wait to see her be proud of herself for performing in the play. I can't wait to see all of her work at archery pay off when she gets her first bulls-eye (or at least hits the target for the first time). I can't wait to see her feel strong.
She's going to be in the play, or sail in the regatta, or make a friendship bracelet, or swim in the relay race, or write a totally ridiculous song and sing it in front of the entire camp. She might also lose the game, or argue with a friend, or be homesick. But I will be there for all of it, and I will make it my job to know exactly what the best and worst part of her day was, every day.
You're not going to know me until you drive down that dusty camp road – so who am I?
I'm someone who gave up other job opportunities or potential college application boosters to be here – because I care about camp and taking care of kids more, and because I think being a camp counselor gives you skills that may be even more valuable than an internship or a different job.
I want to be here.
I care about the safety of your child more than anything else.
I think hanging out with your kid is the best job in the world.
Camp has given or will give me more amazing friends, joys, memories and lessons than any other experience in life. I come back because I want to give that back to children, like my counselors gave it to me.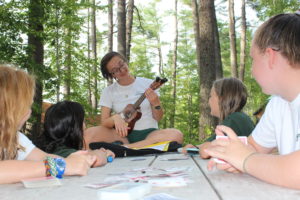 I am silly, and serious, and imperfect – I play guitar and do yoga and balance spoons on my nose, or I play a division one sport and can sing my favorite camp song backwards, or I'm an aspiring teacher who sunburns really easily. Whoever I am, I'm a complex, strong person who knows what it feels like to have lots of different interests and hobbies. I want to help your child find her own, or teach her mine.
I want your child to feel loved. I want your child to succeed in doing something she never thought she'd do. I want her to push herself. I want her to feel safe. I want her to try something new. I want her to make friends. I want her to learn. I want her to figure out what connects her to her friends, and also what makes her stand out from them. I want her to read a book, listen to a loon call, eat a S'More, hit a great backhand, tie a knot, make up a dance routine, run the road race. I want her to have the best summer of her entire life. I want her to love this place as much as I do.
But mostly, I want you to know that she'll be in good hands, and that when you see her at the end of the summer, you'll know it was all worth it.
Love, Her Counselor
Written by Morgan Ingari
Camper 2000 – 2007, CIT/AC 2008 – 2009, Staff 2010 – 2011, 2014 – 2017