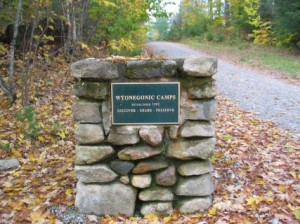 "Discover, Share, Preserve" is proudly displayed at our camp welcome gate and in Wyonegonic's dining hall. My father, George Sudduth who was director from 1965-1991 was passionate about educating campers and staff regarding their relationship with the environment.  January 7th would have been his 75th Birthday. It is a great day to remember George and his commitment to camping, the outdoors, and these three meaningful words.
Spending a summer at camp in Maine is the perfect way to help instill a deep appreciation for the outdoors in kids who spend so much time inside. They can "Discover" through camp programming in outdoor living skills, ecology and overnight camping trips in Maine and New Hampshire.
Girls learn to build a fire and set up a campsite using Leave No Trace Principles. They identify trees, collect frogs from streams and learn about the ecosystems that surround them in the Maine trees that are hundreds of years old. These programs weave naturally into the Wyonegonic camp culture and campers develop a bond with the earth that they can bring home with them and "Share" with others. For many of our camp alumnae, staff and campers, this passion for the outdoors becomes a lifelong journey. woods. Other camp activities enable kids to enjoy the beautiful clean waters of Moose Pond and the towering pines.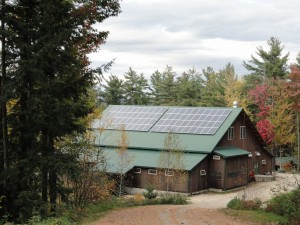 The question on how to "preserve" is constantly evolving. As a camp we can reduce our waste, recycle materials and minimize our energy consumption. In 1988, George had a simple idea of preserving the waters of Moose Pond. He invested in a septic system that eliminated leach beds along the shore by pumping effluent uphill and away from the pond. This was the one of the first systems of its kind in Maine and we continue to use it today. George would be proud to see the new solar panels on the Cobb Lodge dining hall and learn how they supply 110% of the energy needs for that building.
Counselors-in-Training maintain the Southwest Ridge Trail on Pleasant Mountain in partnership with Loon Echo Land Trust. This was George's favorite trail on the mountain and his mark is left behind in the form of the wooden tipi and rock cairns along the Southwest Ridge he constructed with the help of Wyonegonic campers.  George hiked and maintained this trail 12 months of the year.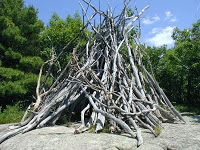 In the 1980's, George's volunteer services for the summer camp industry included serving on the Executive Committee with the American Camp Association New England Section and also for the American Camp Association (ACA) National Board of Directors. He was part of the committee that revised the ACA Accreditation Standards, which camps continue to use to this day. George believed strongly that service went beyond our camp and local area.
Each Sunday, at Grove Services, the entire camp community shares thoughts on a chosen theme each week. "Discover, Share, Preserve" is a theme used historically each summer. I love hearing what everyone has to say; from the youngest Junior campers who are discovering camp and friends for the first time, to the veteran staff who have spent so many summers on Moose Pond helping us share the beauty of camp with others.
We are proud to continue on George's path to sustainability by furthering the mission of "Discover, Share, Preserve"  to the camp community. What do the words "Discover, Share, Preserve" mean to you?  Reply below with your thoughts.
Susie Sudduth Hammond
Assistant Director Wyonegonic Camps