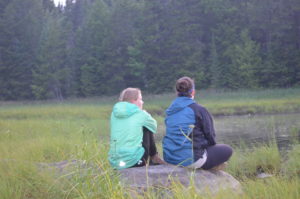 This month we celebrate Earth Day,  we are now entering the 46th year of a movement that continues to inspire, challenge ideas, ignite passion, and motivate people to action. In 1970, the year of our first Earth Day, the movement gave voice to an emerging consciousness, channeling human energy toward environmental issues. This Earth Day, be part of a movement. On April 22, 2016, more than 1 billion people in 192 countries are expected to join together to protect our common home. People will clean up their communities, talk to local leaders about their environmental concerns and spend time with their families outdoors.
We love spending time with our Wyonegonic family outdoors. In fact one of our core beliefs is providing the opportunity for children to experience and learn to live in the outdoors. Each summer several Wyonegonic campers participate in the state of Maine Junior Maine Guide Program, which trains future leaders in the skills of camping and living in the wilderness. Enjoy the inspirational essay below about a recent JMG experience.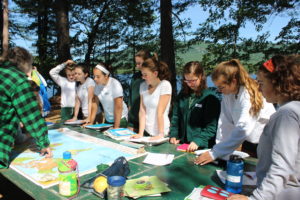 When the alarm rang to wake me up, I felt the warmth of the sun against the walls of our tent. It was 5:30 am and our first test was upon us; making breakfast. It was the second day of the Junior Maine Guide testing camp. The Junior Maine Guide program is a five-week experience where a student/camper learns about the wilderness and survival skills. It was my main activity at Wyonegonic Camp this past summer. Wyonegonic is where I have spent all of my summers since I was eight. It is a traditional camp, in which we sleep in rustic cabins that have no plumbing or electricity. Seven weeks of no electronics is an amazing experience because a girl can learn what a true friendship is. I took the Junior Maine Guide course this past summer at camp.
At testing camp there are twenty-one tests a camper must take. Eleven of them are worth two points and ten of them are worth one. If you fail some you are only allowed to lose four points overall to pass the program. The tests that made me the most nervous were Axemanship, Wilderness Regulations, Map of Area (compass work), and the Map of Maine.
The schedule of a contestant in this program is rigorous. Breakfast is served to testers at 7:00 am, and then tests start at 8:00 am until 11:00 am.  At 12:30 pm we make lunch that is also evaluated by testers. From 1:30 pm to 3:30 pm, it is testing time. Lastly, dinner is at 5:30 pm and we have all of the groups come together at 7:00 pm where we listen to speakers, announcements, and comments from the day. It is a packed day full of making sure our campment is clean, cooking meals, studying for tests, but also having loads of fun.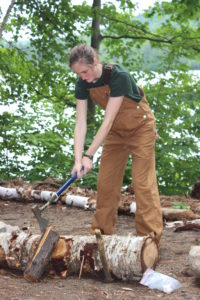 I did not pass at testing camp. However, taking the course was one of, if not the best, decisions, I have ever made. The program made me stronger, more resilient, and more positive. A person can attempt to pass the program three times, but after that the person isn't able to try again. Not passing this year was really difficult to comprehend at first. It felt like I had thrown five weeks of intense studying all out the window.
When my instructor told me that I did not pass, all I could do was look at the paper showing me that I had failed. The first thing that I said was "I wouldn't have changed anything. " Even though I didn't pass, I took away an amazing experience. After getting the result I thanked her and then left. I wouldn't have changed anything. I completely mean it. The program changed my outlook on life.
As I settled into my cot the night I learned my results, I listened to the sound of my counselor's voice singing "When The Stars Go Blue". As I tried to close my eyes, and think about sleep, I thought about the pro's and con's of doing the program again the next year. Here is what I came up with: Pro's: 1) Finishing something I started. 2) Getting the chance to go back to testing camp. 3) Having as much or more fun that I had this year. Con's: I couldn't think of anything. That moment showed me that I wouldn't want to be doing anything else the next summer. Failing taught me that as hard as I may try, I must bounce back and keep trying until I achieve and be satisfied with my effort.
– 2015 Wyonegonic Senior Camper