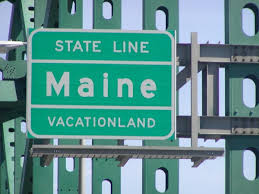 Nearly everyone who has ever driven up to Wyo knows the sign. First you see the bridge, arched and painted a piney green. Then, halfway across, there it is. "State Line," it reads, in stark white letters, "Maine. Vacationland." Typically, as my car passes beneath it, I cheer. For me, it's not just a state line, or a proclamation of the summer break. It's coming home.
Many times in my life, people have assumed I am from Maine. I mean, it is where I live according to my Facebook. But I think home doesn't have to be defined as the place where you are from. I think it is the place you hold in your heart, no matter how far you truly are from it. Last year was my first year of college. I got home from camp, packed up too many things into a few boxes, and flew down to Louisiana. New Orleans is about as far from Maine as you can get, figuratively and literally. It's a big city, a wild city, and it pulses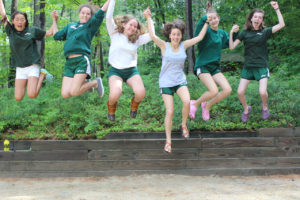 with excitement, all day and especially all night. I was bug eyed. I'm a quiet person by nature. Shy, sometimes too shy, but generally fairly quiet. New Orleans is never quiet. My whole first week of school, I couldn't imagine what for the life of me had driven me to come down here. Sure, I loved New Orleans and I loved my school. But I wondered why I hadn't picked somewhere quieter. Like Maine. I'd loved Colby (I'd hated Bowdoin) and going to college in Maine had been the plan since eighth grade. Yet it hadn't happened. Every day the whole first semester, I wore the same necklace. It was the one we'd gotten as Banquet gifts that summer. And I still wore all my string bracelets too and some weird rings I'd found on the ground after all the campers had left. But slowly, as string does, the bracelet ends frayed until I could no longer retie them, the weird rings made my fingers green, and at last I took the necklace off to sleep and didn't put it back on. Finally, one day, I realized I wasn't wearing my jewelry. It took a while to figure out why. I'd been using the bracelets and the rings and especially the necklace as shields- tactile assurances that I was strong woman who could conquer anything. But as blisteringly hot August had faded into slightly less hot December, my subconscious remembered the woman I am at camp and I let go of my fears. I knew then why I'd come to school in New Orleans and not Maine.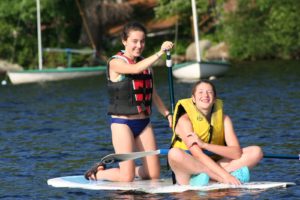 As counselors, we strive every day to create a safe and supportive environment for our campers to step outside their comfort zones and succeed. Even if they fail, we work to make sure they fail with grace and have the courage to get back up and try again. When I was camper at Wyo, I had many incredible role models. They are the women who pushed me to do amazing things, like climb Katahdin or fearlessly swing an ax. They are also the women who taught me to stand with my head held high and to speak with a clear voice. When I decided to come to school in New Orleans, I didn't realize it then, but I was thinking about those women, those experiences I had, and the support I know I always will have. Camp gave me the courage and the faith in myself to leave little rural New Jersey and step outside my comfort zone into Louisiana. When I think of all the summers I have spent on the shores of Moose Pond, I can now fully appreciate what those have meant to me. And nothing gives me greater joy than to create those same summers for the next group of girls. To help create the same homes in their hearts that I hold in mine.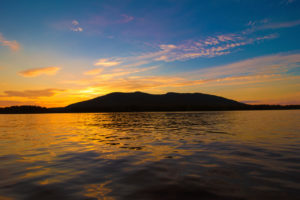 It is true, New Jersey is my home. And so now is New Orleans. But I have always felt that the home in your heart is the one where you know you truly belong. It is the place where the earth is soft beneath your feet and the breeze is always warm. Where you are always your best self yet can always strive to be better. I've realized this past year that if I carry Wyo in my heart wherever I go, I am the woman I am at camp. The earth is always soft beneath my feet and the breeze is always warm. And though I love them very much, I don't need the bracelets and the yarn dreamcatchers and the random maple leaves that still fall out of my notebooks sometimes to remind me off this.
So when in June this year, I pass under that bridge and read that sign- "State line. Maine. Vacationland."- I'm not just coming home. I'm already there.
Caty Matthews, Wyo 2010-2018