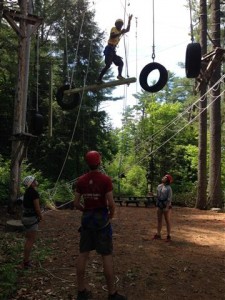 This is an exciting year for the Ropes Challenge Course industry. The American National Standards Institute (ANSI) has designated ANSI/PRCA 1.0-3-2014 Ropes Challenge Course Installation, Operation & Training Standards as the American National Standard for the entire range of the industry, including challenge courses, aerial adventure parks, zip lines and canopy tours.
Wyonegonic Camps is pleased to announce that in early June, we partnered with Adventure Mas to host the first ever training for Low and High Ropes staff to become certified in the new American National Standard. Mike Barker was the lead instructor for this training.
Mike has been involved with Adventure Mas for over six years and was recently appointed to the Adventure Mas Director's position. Mike  has been involved in the industry performing training, facilitation, course operations, building, and inspecting since 1978.  Mike is currently the Vice-President of the Professional Ropes Course Association (PRCA) and has been the primary assessor for the PRCA's Accreditation program and the principal editor of the new American National Standard for the industry.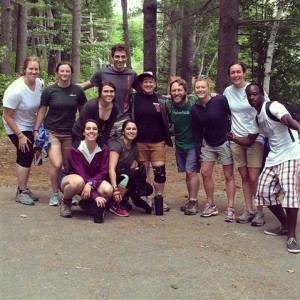 Says Mike, "This new ANSI Standard provides a consistent reference and much needed safety guidance for State Regulators, Inspectors, Insurers and Industry Professionals." He adds, "Moreover, this standard enables course and tour owners/managers to conduct their own in-house training, certify their own staff and designate qualified persons to conduct course inspections – expensive services that previously required performance by a limited national vendor pool that could not adequately service the entire industry."
Congratulations to the camp staff who achieved certification as Level 1, Level 2, Course Manager and Course Administrator Director levels! The participants are awarded two year certifications for having successfully completed the training and assessment.