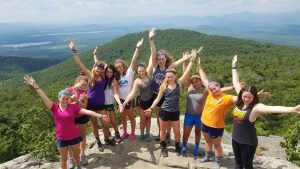 The smell of pines keeps calling me back to camp. Since I was a young girl, my summer camp has been one of the greatest sources of joy in my life. Each summer as a young child, I packed my trunk and headed to the shores of Moose Pond to Wyonegonic Camps. My family are camp people and this is just what we did. However, with each summer, I grew more ingrained in the fabric of this wonderful institution and it grew more ingrained in me.
As a child, camp was a place I went to be with over 100 sisters and counselors who have become many of the most important role models in my life. Camp is my sanctuary, my paradise, and my haven. As young adult, I now understand the pull, as if a kind of gravity, has had on me. Camp has been my rock; the rock that has grounded me and played a major role in who I am today.
At camp, I can be my full, unfiltered self without facing any judgment or criticism. The ability to be myself through the summers has fostered in my personality a place for confidence to grow in all aspects of my life, all year long; winter, spring, summer, and fall.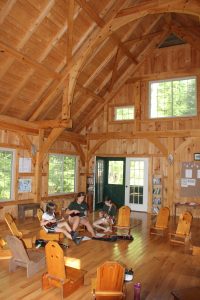 Camp is more than the sweet smell of the pines, or the creaky cots that I have slept on for countless nights or the campfires that I gathered around with my closest friends. All year long, I hear the campers singing in my sleep. My camp friends are my most genuine and accepting of all my peers. Among them and alongside them, I learned to sail, chop wood, canoe rivers and try activities that I would never have had the opportunity to do. I became an avid outdoorswoman and learned that I can operate independently and make decisions. Living in a rustic cabin taught me to care for others and that my actions make a difference in a community.
Now as a young woman in college, I find the value of my summer camp experience more than ever. Having the ability to feel I can be myself in an environment like college, which is new and intimidating, is genuinely irreplaceable. This I attribute to my summers at camp.
As a college student I have countless opportunities to pursue. Internships, work at home during the summer, and traveling are all enriching options. Despite these, I choose camp. I choose camp because I want to give back and pass the magic on to my campers. I am that person who now empowers young girls and helps them to be their best selves. This is a gift I received from my counselors throughout the course of many summers.
To become a person who is part of the history of an organization and to move a community forward compare to no other. I have important jobs to do and one is to help my campers see the difference they are making in the world. This is done simply and organically, daily at camp.
Many times during my years, especially as a young teen, I leaned on my success at camp at other times of the year. The lessons I learned is what helped me through the challenging social maze of adolescence and instilled in me the confidence to take risks and try new things. I want my campers to be brave and understand they do not need to be perfect. Camp allowed me to grow the confidence to be who I am meant to be. Independent strong women are needed in today's society, and they are created summer after summer at Wyonegonic.
Every young woman should have the experience of summer camp, just as I did. As a young child, I had no idea how profound this experience would be. I will always call camp my summer home. It is a home that I plan to send my children and grandchildren to and together we will sing the same songs on the shores of Moose Pond that countless women have sung for 118 summers. Camp is a gift. Seeing young girls grow to be confident young women throughout the summer is a privilege I am honored to have. There is no better feeling than being deeply woven in the fabric of what I consider to be one of the most special places on earth!
The smile of a camper when she first canters on a horse, the empowerment seen in a camper's eyes when she lights a fire with her one match, and the shrieks of exhilaration when a camper is the skipper of her own sailboat are truly irreplaceable. I am forever grateful for my involvement at Wyonegonic Camps, and the camp magic that occurs over the course of the summer.
Maggie Ryan, a longtime camper and counselor.
This article appeared in the Greenwich Sentinel in March 2019