Trapped inside this winter?
Whether you are trapped inside due to the recent major winter storms in your area or have a house full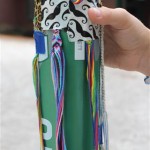 of kids home and bored for school vacation week, here are a few ideas from summer camp that may help entertain everyone when you are out of ideas!
Skits – Tackle a fun theatrical performance at home that kids can plan, practice and then perform. Have siblings work together or invite a few neighborhood friends over. Paper Bag Skits are great. Place 5-10 random items in a paper bag and the kids use these items in a skit they perform (the wackier the items the better). Watch their creativity take off! Or have them plan and act out a commercial to advertise an item, play progressive charades, or perform a scene from a favorite musical.
Friendship Bracelets – Unpack the camp trunk and find the leftover embroidery floss. Kids can make bracelets for friends, family members or even themselves. Search online for "how to" videos or purchase a book at a craft store if you or your child does not know how to get started.
Write Letters – Pretend they are at camp with no electronic communication. Grab the stationary and write fun letters or cards to friends, address the envelopes, and mail them out the old fashioned way! Perhaps they will be lucky and get a reply in a week or so. Start a letter writing chain, ask funny questions or create a "fill in the blank" style letter that a friend returns. Letter writing is a great life skill. As many a summer camp office staff can attest to, kids should learn how to address an envelope properly!
Evening Programs – Kids can think of their favorite games and Evening Programs from camp, and try a home version. Can you play an inside version of Capture the Flag? Build fairy houses if you can get outside (fairies like snow), organize a scavenger hunt around the house or try Dutch Auction, Chocolate Smugglers or Flounder (ask the kids how to play – they will know!)
Newspaper Fashions – Use newspaper to create fashion designs using nothing but newspaper and a limited amount of tape. Make a super hero, create an red carpet worthy design or use a theme. Kids can use each other as the model or dress you up. Don't forget to take photos!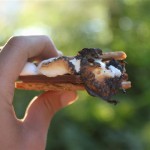 Of course get outside if you can (see our recent Children and Nature blog). Dress warmly and enjoy all the out of doors has to offer whatever time of year. Fresh air does wonders for helping with cabin fever. If you have a fireplace you could roast some marshmallows and make S'mores afterwards!
See you when the weather gets warmer!
Susie Hammond, Associate Director Wyonegonic Camps