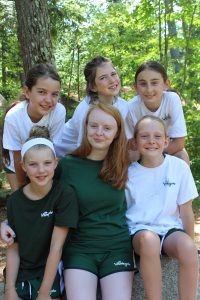 Wyonegonic is proud to have hosted International staff since the 1980's through the J1 visa cultural exchange program. We have strived to host participants that represent different countries, languages and cultures. Exchange participants are celebrated with flag ceremonies and we have enjoyed learning about food, customs, sports, music and dance. Our campers and staff have shared in this experience and made friendships that cross oceans and stand the test of time. Beyond the benefits of cultural exchange are the tremendous benefits of supplementing our seasonal work force of US college students and community members from Maine with the high quality, experienced staff from around the world. We count on them as a part of our team in order to offer our quality programs.
The Presidential Proclamation that temporarily suspended J1 visa operations in June 2020 has thankfully expired, but there are lasting effects that put us in a time crunch. We are now hopeful that embassy operations can resume to process the J1 participants in time to get them to camp. The visa slowdowns and travel bans in place in many countries put these vital programs at risk.
Time is of the essence and Wyonegonic is joining our partners in the J1 industry, Bridge USA Programs and the American Camping Association in advocating for the importance of these programs to seasonal businesses and the nation's economy.
Read below for a testimonial from Rebecca, a two year participant of the J1 visa program who plans to be in Denmark, Maine this summer teaching horseback riding. This is part 2 of 2 in our Wiggie Chair chats series about cultural exchange. In case you missed it, read part 1 of 2 written by long time camper and current AC Ellie's testimonial as well.
Thanks and kiyi,
Wyonegonic Camps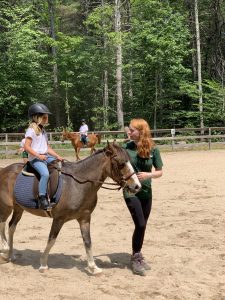 "I have been incredibly lucky to have been able to take part in a cultural exchange programme through obtaining a J1 visa for two summers. Working and living at a summer camp has allowed me to grow and develop in more ways than I ever thought possible. I was able to be myself and not only develop any weaknesses but begin to appreciate the strengths I have, which is often difficult to do. Being part of an amazing team and being appreciated by others provides vital personal development.
The opportunity to meet other staff and campers from all over the world and learn about their experiences is priceless.
I have developed many aspects such as; confidence, communication and leadership skills, which are all incredibly important for future career opportunities. I think that allowing campers to learn about different cultures and backgrounds provides a much more varied experience by allowing them to experience new ideas. Campers and staff love this opportunity and I think it is vital for everyone's development.
I think that this experience is something that should continue and be widely encouraged as the benefits to the participant and all of those who come into contact with them are easy to see. It is an incredibly unique experience that cannot be understood until you take part yourself.
I do not think a day has passed since camp that I have not used the phrase, 'This one time at camp…' The people I have met, both campers and staff are incredibly important to me and many of which I hope to remain friends with for life. I will always be grateful for this amazing experience and the people I have met. Camp truly has become a second home to me and the people there are like family. I hope to return in the near future."
Rebecca Davidson
Wyo staff 2018, 2019, 2021