Challenge Courses
Wyonegonic offers a three part Challenge Course Program that encourage campers to learn skills in team building, problem solving, developing trust and taking safe risks.
Low Ropes
The Low Ropes Course is a great resource for campers to build trust and learn skills. Course elements include Multivine, Tension Traverse, Pirates Crossing, and Swinging Log. Campers work on balance and challenge while their peers learn safe spotting techniques under the supervision of certified instructors. Campers from both Intermediate and Senior Camp use the Low Course.
Team Building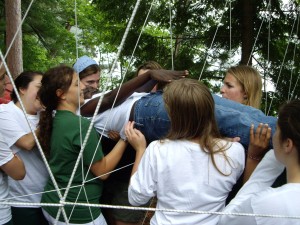 Wyonegonic also has  group initiative elements like the Sinking Ship, Wall, 3-D Spiders Web, Maze and Nitro Crossing.  Campers work together to solve challenges and instructors can tailor difficulty depending on age, experience, and group dynamic. Communication skills, leadership and working together are important life skills that girls learn while performing these fun challenges together.  Many group initiative projects do not require special equipment and can be excellent activities for girls out of camp on Wilderness Trips.
                                                               High Ropes
The High Ropes course is designed for Senior Campers. This course consists of 14 elements, many of which are 30 feet above the ground. Some of the elements include Burma Bridge, Wild Ride, Zap Line, Space Loops, Trapeze Jump, and Giants Ladder. Safety is paramount in this program and all staff are certified instructors. Campers practice their skills on the ground before progressing to climb to the more advanced elements. Interested campers work on leadership skills by learning to belay and assist in the course under staff supervision.
                                                                                                                                               Climbing Wall
Our multiple-course climbing wall offers varying degrees of difficulty. Campers learn proper safety and climbing techniques. Teamwork is developed as climbing partners learn from our certified instructors how to support the climber with proper belaying skills. Girls are challenged individually and gain great satisfaction in achieving the top of the wall.