Landsports
Wyonegonic has a varied Land Sports program which allows campers to participate in activities that they choose each week. Some campers like to concentrate in one area while others try different activities each week. Our non-competitive atmosphere allows anyone to take part in the program and develop new interests.
Tennis: Wyonegonic has five clay tennis courts and one hard surface court. Campers learn the skills needed to play tennis through lessons with a counselor. They can practice strokes, volley with other campers, and learn the rules of singles or double match play.  Games and drills that are fun are emphasized during lessons. Advanced players have the opportunity to play for the Wyonegonic Tennis Team in the WWWA Tournament that takes place twice each summer with three other local camps. Tennis is also a popular activity during free time.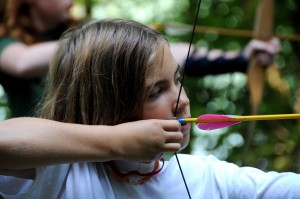 Archery: We have an archery range where up to six campers can shoot at a time under the supervision of a certified archery instructor.  Archery is hugely popular for Juniors and Intermediate Campers who fine-tune their skills through practice and progression through levels.  Senior Campers may also take an archery class upon occasion.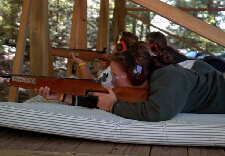 Riflery: Girls in Senior Camp are able to continue their marksmanship skills at our 50-foot rifle range. Campers are taught the safe and proper handling of a 22 caliber target rifle by a certified Riflery Instructor. They keep track of their scores and strive to join the Bull's Eye Club.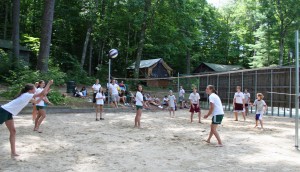 Sports: Campers enjoy the occasional pickup game of soccer, basketball or volleyball.  We offer these options for variety not as a focus of our daily camp instruction.  We have a small grass field and a sand volleyball court.  Basketball hoops are available in both Inty and Senior, shooting baskets or playing a game with friends is popular during free time.