Special Events
We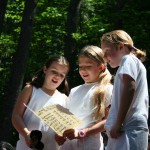 host a variety of special events throughout the summer. Generations of campers have participated in these traditional activities.
Sunday Grove
Each Sunday all of camp gathers in our Pine Grove for a non-denominational service. Each unit takes a turn in leading and participating. A theme is chosen and presented through music, dance, poetry and creative readings to the rest of camp. At the conclusion, all cabin groups are invited to share their thoughts on the chosen theme.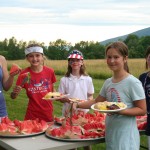 Fourth of July
We start celebrating Independence Day with a reenactment of Paul Revere's famous ride. Interested campers and staff participate in the Four on the Fourth Road Race in Bridgton. In the afternoon, the entire camp population attends a cookout at the Sudduth Farmhouse. We complete the day with a campfire in camp at TeePee Point celebrating America and honoring our international friends in residence.  Girls can show their spirit and dress in red, white and blue!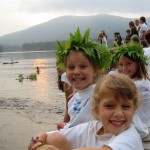 Evening Program
Nearly every night, there are different Evening Programs in the three units.  EPs are very popular with both campers and staff and a chance for the unit to spend time together.  Examples include scavenger hunts, newspaper fashions, skits, water games, camper hunt, capture the flag and other group games. Others are special events like Goldrush and Miss Wyo. Every summer, new staff bring fresh ideas to mix with the traditional favorites.
Wyoween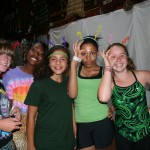 Every July 31 Wyonegonic celebrates Wyoween!  Costume contests and Halloween themed events make the day a fun treat.  Senior campers love their haunted walk after dark.
Leaders Party
Girls in each unit attend a themed party hosted by their team leaders.  Campers appoint the team leaders at the beginning of the session and the leaders and staff plan and host the party which includes games, costume, dinner and an evening program.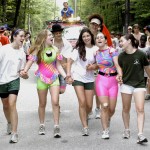 George N. Sudduth Memorial Road Race
Each August we host a foot race from the Sudduth Farmhouse to the Ordway Farmhouse at Winona Camps. Many campers, staff and alumni run or walk the four mile course in honor of George N. Sudduth who was the Camp Director from 1965 – 1991. The CITs are involved with the preparation and planning of the event. Afterward, there is a cookout at the Sudduth Farmhouse with barbecue chicken and watermelon for the entire camp.
Banquet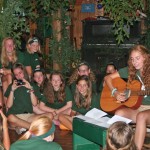 This traditional evening is a culminating event at the end of the Wyonegonic season.  Each unit has a banquet meal together in their hemlock decorated Wiggie.  Campers and their counselors write and present a special poem or song to each other.  Campers are also recognized for their achievements in activities.
Candlenight
This event is held on the last night of each summer. Junior and Intermediate campers, staff and guests gather at the Intermediate Waterfront with candles. Senior campers, CITs and staff paddle from the Western Wilderness in canoes to join them. Many traditional songs are sung in reflection of the summer with good wishes for the future.