Counselor in Training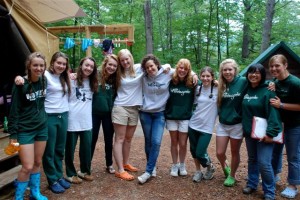 For: Girls entering Junior or Senior year of high school.
A maximum of 12 girls
Girls interested in learning teaching methods & gaining certifications in camp activities
Girls interested in working with children
Tuition: $6800.
Dates: June 29 – August 16, 2016
The CIT program is by invitation. Eligible girls who were campers at Wyonegonic the previous summer will be contacted in the fall to complete an application and a phone interview.
The objective of the Counselor in Training (CIT) Program is to prepare candidates for counselor responsibilities:
To learn teaching methods
To sharpen communication skills
To enhance leadership skills
To prepare and execute the handling of special camp programs

To build a strong team
To enjoy the resident experience with peers
To learn and appreciate individuals for their strengths and differences
To plan and execute a project with Assistant Counselors
The program is diversified with focus on aquatic and outdoor activities:
Highly structured
Individual needs/skills will be taken into consideration
Waterfront Lifeguard with CPR Certification
Swimming – Water Safety Aid
Small Craft Safety – Canoeing & Sailing
Leave no Trace Wilderness Ethics
Wilderness First Aid Certification
Outdoor Living Skills
Canoeing
One week canoe trip
Ecology & Conservation
Orienteering – map and compass

Challenge/Ropes/Climbing Wall – 3 days
Sailing – one week
Wind Surfing/Water Skiing – one week
Tennis – one week
Riflery/Archery – 3 days
Crafts/Pottery – 3 days
Day hike
Planning and leading: Grove Service; Winona co-ed event; evening programs; special all-camp program
Assist counselors daily, one activity period
Community Service projects
Visit to a local area camp
Tuck in Junior campers one night a week
Living Arrangements:
CITs live in groups of  3 in platform tents
CITs eat meals with the Senior Unit.