Archery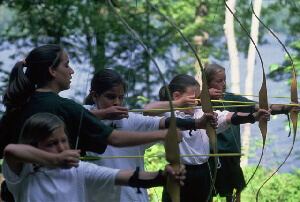 Instructor: Lucy Morris,  New England School of Archery and Supplies
Purpose:
To improve the safety and quality of archery instruction to individuals and small groups in a camp setting
To review archery techniques
To give instructors confidence in teaching
To learn to motivate and vary daily program
To care for equipment and make repairs
To comply with ACA Accreditation Standards and state licensing regulations.
2015 Dates:
Archery Course 1:  Wed June 10th starting at 9am – Thurs June 11th finishing at 12pm
Archery Course 2:  Fri June 12th starting at 9am – Sat June 13th finishing at 12pm. This date is currently full. Please contact our Office if you would like to be waitlisted.
Cost: $195 (residential) or $180 (commuter)
Prerequisites: The minimum age for the Level I course is 15. However, when conducting an archery class, those under the age of 18 are required to have an adult (18+) supervision.
Certification: National Archery Association – Level I
Note:  Full attendance and participation is required. There will be no evening class time for this course although coursework or homework may be assigned during this time. Please choose residential or commuter rate.