Tennis Instructor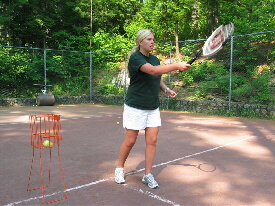 We will not be offering Tennis Instructor Training in 2015. If you are interested in taking this course in the future, please contact [email protected] for more information.
Purpose: To give summer camp tennis instructors the confidence and skills to teach players of all abilities
To review teaching techniques of strokes for varying skill levels
To develop a repertoire of drills and activities
To learn and practice proper ball feeding
To learn effective class management skills
To discuss techniques that are age appropriate for students
To set up tournaments appropriate for camps
To utilize special teaching tools such as ball machines and backboards
To care for courts and equipment
Tennis Instructor Workshop 1: To be determined
Tennis Instructor Workshop 2: To be determined
Cost:  $95 (includes lunch)
Evaluation: Tennis Instructor will provide written confirmation of attendance and evaluation of skills and teaching ability.