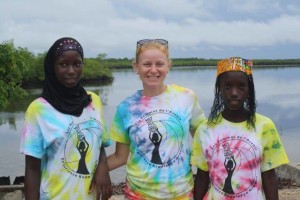 I just wanted to reach out because I recently participated in a pretty awesome project that made me think of my time as a counselor at Wyonegonic! For the past year I have been abroad working for the Peace Corps as a Sustainable Agriculture volunteer. I work with farmers to help increase their food security and the health of their families by increasing crop yields and diversifying gardens (veggies!). I live with an amazing host family here in rural Senegal and have no electricity but do have running water (a lot like Wyo!).
One of the best parts about Peace Corps service is that you can coordinate projects that fit with your interests. So, naturally I jumped on an opportunity to participate in a girls leadership and empowerment camp! Recently, volunteers and I selected 39 girls from more than 15 rural villages in our area and brought them together in a secluded campment (campground) on the coast of Senegal. Most of the girls who attended the camp had never been to see the ocean- let alone swim in it. They w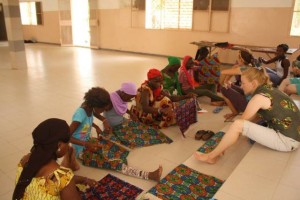 ere so eager to get into the water and learn how to swim. Who knew my time as a swim instructor at Wyo would come in so handy on the other side of the world! We taught sessions about health, the environment, identity, and future planning. Throughout the week I was extremely thankful for all of the things Wyonegonic taught me about being a counselor and working with girls. It was the most incredible experience to translate the things I learned at Wyo into a foreign language and culture. The girls absolutely loved every minute of the camp and I wanted to say thank you for everything you taught me! I have written about the experience in detail on my blog. Our week long camp gave me so much more respect for the amazing program you work towards all year long. It is definitely no easy task!
Christina Ertel
Wyo Staff 2009-2011