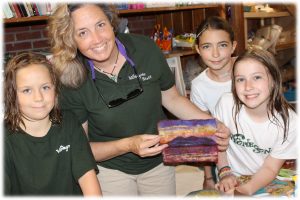 I have been thinking about the studios at Wyo often these days, feeling campsick. Arts and Crafts and Pottery are most often our most "indoor" of activities at a most "outdoors" of camps. And yet, so many of us truly need it at some point. On my walks around camp, I have seen girls accomplishing wonderful things outside, taking obvious risks and receiving the reward of cheers from their friends and counselors. In the studio, the risks and rewards are quiet and subtle, but no less profound.
We focus on the doing of things, the learning of processes, and the busying of hands. Space is left for giggles, quiet conversation, stories of outdoor adventures, and music. Unique solutions to a common query unfold over the week, revealing each girl's individuality. Glances across the table at each other's work, looking for ideas and solutions, are rewarded with smiles of encouragement and words of praise. At the end of the week, the product is an experience made manifest, a physical remnant of a risk taken and a new skill accomplished.
Making art has its own thrills-it can be scary to start something new. I can't count how many adults have mentioned to me that they "can't;" the girls, however, are brave. They have friends by their sides and counselors to encourage them, to laugh through the hard parts. This busying of hands allows their minds to wander, to process the day's events, the feelings of joy, observations of their environment, moments of understanding. They are allowed to Be.
It has been hard for me to start projects these days. So much to think about, to miss. But I finally did. I made a painting. Really, it felt monumental to even begin. I had to assemble all of my supplies, set up my easel, and stare at the blank, white surface. I felt that stab of fear, old friend. I looked at my subject instead, studied, observed, appreciated. I looked at the rainbow of colors on my palette and thought, "this I know, this I can do." I let my mind go. And I Was.
Winnie Thompson, Wyonegonic CIT/AC 1989-90, Staff 2016-19