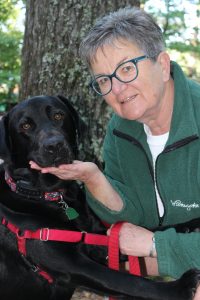 If you have called 207-452-2051 in the past two decades, you have been treated to the voice of a true Mainer. Karen Grey has been the Office Manager for 19 years and she has been much more than just the friendly voice that receives your call. Karen has been a reliable and capable friend with skills that helped her thrive in the job. She is a believer in camp, a helpful hand a laugh when needed and an employee willing to roll up her sleeves and do what is needed. She has been affectionately known as "Ma" to hundreds of summer camp staff that have passed through the office doors over the years.
Karen is a native of Fryeburg Maine; a graduate of Fryeburg Academy; a supporter of the North Fryeburg Community Chapel; an active quilter; a dog lover and Mom of two grown children, Jason and Jessica. Recently she has been the primary caregiver for her husband Larry as he recovers from serious surgery.
The time has come for Larry and Karen to retire, escape Maine winters, and join friends in Florida where they have recently purchased a home. She has trained her replacement Rhi Logan who has stepped into the role of support for the Sudduths and Wyonegonic.
We send Karen off with special hugs and gratitude. She has already offered to help in small ways as we turn the corner into 2021.
Kiyi Karen – thank you for your dedicated years of service. You will be greatly missed.
The Sudduth Family