Miles of trails and woods roads, unparalleled scenery next to the Saco River, and 1,846 acres of floodplain forest and wildlife habitat in Western Maine are now protected for recreation, wildlife habitat, and sustainable forestry, the Upper Saco Valley Land Trust recently announced.
After more than four years of collaboration with Maine's Department of Inland Fisheries and Wildlife and The Nature Conservancy in Maine, the trust finalized its largest land protection project to date. Conservation easements on several properties in Fryeburg, Denmark and Hiram comprise the project, which is located at the center of nearly 10,000 acres of intact habitat near the Maine-New Hampshire border.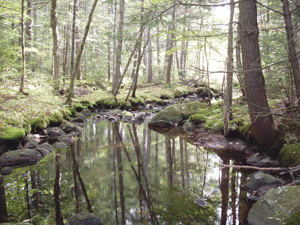 This preserve will continue to be managed for wildlife habitat, public recreation and benefits such as flood protection. The property includes mature silver maple floodplain forest, wetlands and 11,000 feet of frontage along the pristine Moose Pond Brook.  Moose Pond acts as the headwaters for the brook that spills into the Saco River.
We are very lucky to have the Upper Saco Valley Land Trust, along with Loon Echo Land Trust, working hard to preserve the open spaces here in Western Maine. We utilize several of their preserves and easements for our tripping program such as Pleasant Mountain and Bald Pate Mountain Preserve.