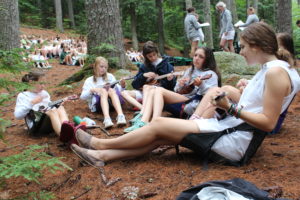 Like many North Toronto C.I. students, I spent my summer working at an overnight camp as a counselor. This year, I left camp not only with special memories and new skills, but with a new perspective on the importance of lessons that children can share. Of course, camp counselling is not all glamorous, and I did have to constantly remind ten-year-olds to pick their wet bathing suits up off the floor and to stop walking around the cabin during rest hour in horseback riding boots (which is in their opinion the most appropriate and quiet footwear option). I could not imagine my summer without the loving hugs from my first session ten-year-old campers and the late night talks about middle school, confidence, and friendship with my second session twelve-year-olds. I have compiled the top three lessons that I took away from this summer, which I think demonstrate the importance and great value we can all gain from working with kids.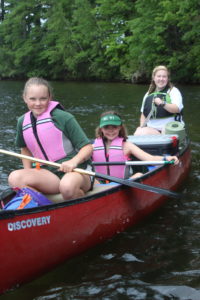 Kids remind us to be optimistic. When my cabin was scheduled to depart for a camping trip on the stormiest day of the summer, I was shocked by the girls' excitement despite the pouring rain. Not one of them complained, and they hopped into their canoes with smiles on their faces. They showed me that the rainy outing was an adventure and definitely one that we would remember for a long time. They laughed throughout dinner about funny songs and even performed a "rap battle" under a tarp in the pouring rain. Even though many of them had frustrating, wet sleeping bag nights, they crawled out of their tents the next morning laughing about their experience. As we canoed back to camp, singing at the top of our lungs, they told me that it was the best cabin overnight trip. I know that many of us (myself included) would have struggled to maintain such a positive and optimistic outlook due to the gloomy weather, but twelve-year-olds made the experience a beautiful memory.
Kids are experts on the importance of having fun. The campers were apologetically themselves and their goofiness shone around camp. Walking into the cabin in the middle of a flashlight dance party or fashion show reminded me that it is important to have a "goofy moment" each day. I have never seen such pure and natural smiles from kids and tweens as I did when they were being goofy. I could tell that many of them felt pressures to be "cool" and mature at home, and it was evident that being in a place that fostered individuality and the preservation of youth was beneficial to their mental health and outlooks as they grew up.
Kids remind us of how beautiful childhood is. I found that camp is one of the few places left where a ten-year-old and even a twelve-year-old are still treated as children. They are encouraged to play, to make up their own games, and to use their imaginations to create their own fun. Of course, many of them mentioned their phones or social dramas at home, but I saw the side of a little girl in every one of them. This is unique today as kids are encouraged to mature at increasingly young ages. It was magical to see ten-year-olds who would normally be playing on tablets at home, thoroughly consumed in writing letters to fairies and patiently waiting for a response.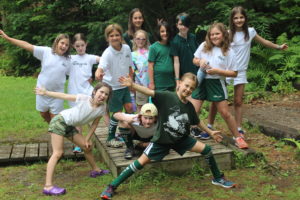 While summer only lasts for a few months, I hope that the girls will remember the value of viewing everything in an optimistic light, the smiles and confidence that come with showing one's goofy side, and the joy of creative play through imagination. Now the counselors and campers have gone home to very different communities, families, and lives, but I hope that we will always remember how we felt about ourselves at camp. I hope that institutions such as camps and schools continue to foster the values of optimism, the preservation of youth, and creativity. I hope that as high school students, we can look back on memories from our childhood summers and use them to propel us into the new school year.
Maya Sternthal
Wyo AC 2018, Camper 2011 – 2017
Like this message? Read this blog from Huffington Post. 10 Life Lessons You Can Learn From Children