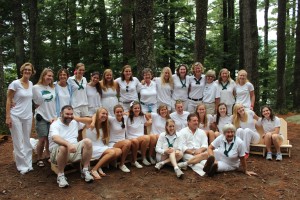 I have spent the past four summers trying to decide how to decorate my Wiggie Chair, so that it would be personal and instantly recognizable as mine. For a while it felt as though nothing could be good enough to accurately represent my first 10 years at Wyo. It wasn't until this summer, 4 years later, that I felt prepared to permanently design it.
The Wiggie Chair has a long tradition at camp. They started as foldable chairs, made from snowshoes, for counselors to sit in canoes while campers paddled them around Moose Pond! Over time, these chairs transitioned to a more solid and sturdy chair cut from pine. They currently fill our Wiggies throughout camp. On cool and rainy summer days, campers crowd around the fireplace as they roast marshmallows around the fireplace and share camp stories while sitting on these chairs.
When the Sudduths took ownership in 1969, they transitioned the Wiggie Chair into a gift for anyone that has spent 10 summers at camp. It is an achievement that is celebrated by the entire Wyo community during the last grove of the summer. This is an extension of the 5-year gift, a canoe paddle. Traditionally campers paint their paddles in arts and crafts during the summer to personalize them and mark them as their own. Typically, campers paint their teams, their names, or a favorite camp scene onto the paddles. Campers used to leave their paddles at camp, but nowadays it is common for campers to take them home. During the summer, they can be seen all over camp near the canoe docks and attached to the Wiggies.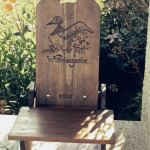 A similar tradition does not yet exist for Wiggie Chairs, and I struggled to pick just one idea to commemorate my time at camp. Finally, I chose my absolute favorite t-shirt design, the loon! I edited the design to fit on the chair and I carefully traced it onto the chair back. I spent two whole weekends carving the design with a dremel. Finally, I stained my chair to a dark wood to mask the sun damage that happened as a result of procrastinating for 4 years! For additional personalization, I carved the year I received the chair underneath the loon, and I carved out my initials on the back of the chair, right above the handle.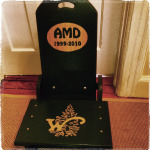 Recently, Ali D'Agostino had her chair decorated too. We both picked designs that were meaningful to us and it is incredible to see these chairs together. We received our Wiggie Chairs together in 2010, and it is great to be a part of a newer tradition that is just starting to surface. Others have begun decorating their chairs too and I am excited to see them when they complete. While each of our chairs have our individual touches, it is most compelling to see them together as part of a much greater whole, and as a reflection of the Wyo community.
Caitlin Parker, Wyonegonic Alumnae and Staff Member