Philosophy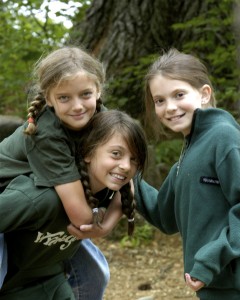 Wyonegonic Philosophy
Wyonegonic is a place to learn values and life skills that will help a child thrive in today's world.  It is not designed to give answers, but to offer opportunities. Wyonegonic wants to assure that camp is an ideal combination of fun and growth. Campers have the freedom to be themselves, while they develop their confidence and learn skills in our non-competitive atmosphere.
Wyonegonic encourages and guides all campers to:
Accept responsibility and tolerance through group living
Make independent decisions
Challenge themselves to try something new
Develop deep friendships
Experience a sense of achievement and success
Enjoy the simplicity of the outdoors
Our leadership team provides the guidance and instruction to develop these skills, as well as the incentive for each camper to attain her own personal best.
Wyonegonic Spirit

Camp spirit is built slowly from a sense of achievement, of developing responsibility, of being a necessary part of the worthwhile whole, of delight in the outdoor beauty and closeness to nature.
It is friendships with peers from approximately 30 different states and 20 foreign countries.
Above all, camp spirit is about memories – singing camp songs, tales about trips, laughter with cabin mates, traditions like Pine Grove and Evening Circle.
Camp Spirit keeps campers coming back to the shores on Moose Pond – and many girls return as counselors to pass the spirit on to others. It is this spirit that motivates alumnae, staff, campers and their families to share with friends the JOYS and MAGIC of WYONEGONIC.