Green Initiatives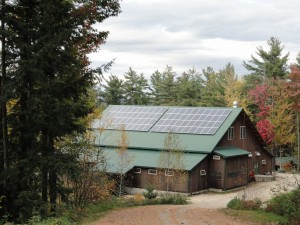 Wyonegonic Camps has an 17.5kw grid tied solar electric system providing electricity for the Camp Dining Hall. The system consists of 80 230 Watt Canadian Solar panels which produce DC electricity when exposed to sunshine. This electricity is then converted to AC power which is either used by the Camp, or sold to Central Maine Power for a credit. The system has no moving parts, no batteries, and is expected to provide 110% of the anticipated power usage of this building. The system was installed by ReVision Energy.
We recycle tin, plastic, glass and cardboard. Wyonegonic purchases from regional food suppliers and when practical, utilizes local farms and vendors. Use of paper products is minimized whenever possible throughout camp. All Wyonegonic wilderness trips practice Leave No Trace ethics.
We compost our kitchen scraps with the manure from our horse stables. We utilize some of this compost in our herb and vegetable gardens which are located at our Dining Hall. We also use the compost for our flower gardens we have through out camp. The majority of the compost is spread on the hay fields near Carol's Farmhouse, where we mow the hay for our horses' feed.