Music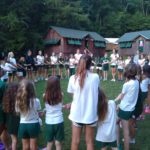 We love our music. We sing at Sunday grove, in the Dining Hall, at TP point campfires, and every night at evening circle. Some of our traditional songs date back to the early days and were written by Wyonegonic campers and staff. Others became popular at camp in the 70's-80's. Many we sing are modern popular or folk tunes that campers love and have messages that we connect with at camp. Enjoy the listening.
Here are some favorite Wyonegonic songs performed by campers:
Wyo Songs Playlist
These versions are by their original artists. Thanks to Abby (AC 2020) for compiling this list on Spotify to share with Wyo friends, campers, staff and alums.
Click here to add this Spotify Wyo Songs playlist to your library.