Unit and Cabin Life
Units:
Wyonegonic is composed of three camps; Junior, Intermediate and Senior. These units are designed to fit the needs and interests of each age group. Each unit is a close-knit community that is small enough to kindle deep friendships and personalized attention. Campers eat meals, spend free time and participate in evening programs and special events with the girls and staff in their unit. Unit Directors oversee the campers and staff and act as a communication link with the Camp Directors.
Cabins: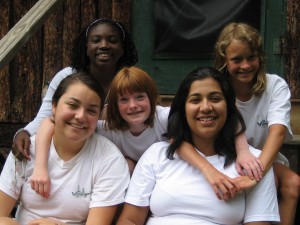 Within each unit, campers live with a counselor in a cabin group of three to six girls their age. Cabin counselors are carefully selected as positive role models and make the needs of their campers top priority. Counselors have completed a minimum of one year of college with the exception of a few high school graduates who have completed our two year leadership training program. Many counselors have been campers in the past and are eager to share the magic of Wyonegonic with the girls.  Guidance in teamwork, making friends, setting goals, selecting activities and adjusting to life away from home are ways our counselors provide leadership for their cabin group.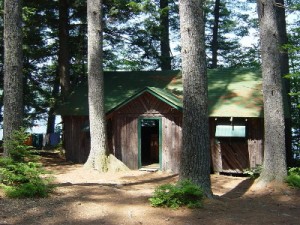 The campers spend the summer in rustic lakeside cabins.  Screened windows allow fresh breezes to come off the water and shutters close at night or during foul weather. Campers and staff use flashlights or battery powered lanterns at night as the sleeping cabins do not have electricity. Toilet and shower facilities are conveniently centralized a short walk from the cabins. Campers bring a footlocker to camp for storage of personal belongings at the foot of their bed.  Each camper also has a shelf available in their cabin. Camp life is simple and void of electronics, phones and video games.  Instead girls spend time with friends and appreciate the beautiful outdoor surroundings.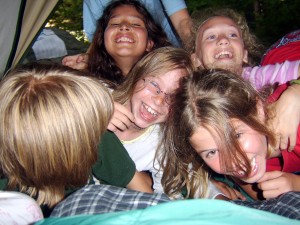 Cabin Night occurs once each week.  Counselors and cabin-mates get a chance to plan a meaningful group activity and spend time together.  Scavenger hunts, waterfront activities, team building games and craft projects are all examples.
Campers also spend time with their cabin mates during free time, rest hour and before bed each night.  A cabin group becomes family and friendships formed often last a lifetime. Once each session, girls go on a Cabin Overnight. During this overnight camping trip, the group paddles or hikes to one of our on-property campsites, cooks dinner over the fire,  sings songs and roasts marshmallows. The night culminates by going to sleep in tents. What a memorable adventure!