Counselors and Unit Staff
Unit Staff are assigned to live and work in one of the three units at Wyonegonic; Junior Intermediate and Senior. Cabin Counselors, Aunts and Uncles, Trip Leaders, Unit Directors and Program Directors work together as a team to provide a safe, caring and energetic atmosphere for the campers.
Cabin Counselors are responsible for the care and well being of their campers. Camp life is simple. It is essential that counselors have a deep appreciation for the outdoors. Counselors live with campers in rustic cabins along the lake shore. Your cabin is home for the campers. This is where feelings of comfort, belonging and creativity are fostered. As a counselor you aim to create an environment with your cabin group that is like a family within the larger camp community. Inspiring counselor leadership is the key to a happy summer and it is important to be actively involved in your camper's daily lives. Campers come to Wyonegonic to gain values and life skills that will help them grow. YOU as a counselor play the most important part in her growth. You will be assisting each camper with her relationship with others, her program decisions, and challenging her with new goals.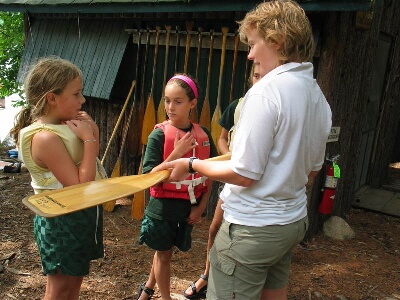 Counselors teach in a primary activity and in a secondary area. A willingness to work hard, to strive for excellence, and to learn and pay particular attention to each camper will help you be an effective teacher. Counselors are responsible under the direction of your respective activity supervisors to plan and execute daily and weekly lesson plans.
Our campers progress through different levels in each activity area. It is our hope that each child improves her skill level while having fun! We also want to entice her to try new things and to take safe risks. We do this in a non-competitive and nurturing atmosphere with good attention to individual needs and quality instruction. It is amazing how much our campers learn about themselves and their abilities.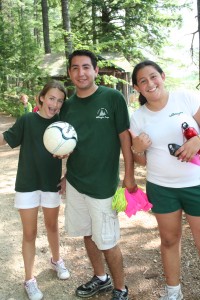 In addition to your role in the cabin and teaching in activity areas, counselors will have additional duties in the respective units. These duties include planning a weekly evening program, taking a turn on duty in the evenings, supporting the Unit Director and other tasks necessary for the functioning of camp. We are a community that works together for the common good.
Aunts and Uncles (non-cabin counseling staff): Each unit has Aunts and Uncles…these staff do not live in cabins with campers but act as support and are present for all activities, unit events and meals. They teach five activity periods each day and often are assigned to collateral duties that help the Unit Directors complete day to day needs. They also fill in for cabin counselors who are on time off so there is adult supervision during rest hour and bedtime.
Trip Leaders are often planning, packing, or leading groups on out of camp hiking and canoe trips. Trip Leaders act as additional Aunts and Uncles when they are in camp and teach activities, attend EPs, and eat meals with their units.
What makes Wyonegonic so special is the spirit instilled by the staff. They are the heart and soul of our program and community.
"I am more mature and self-assured because of your belief that I could lead and take on the responsibility of helping to provide this very special experience for other people's children. Your enthusiasm, knowledge and skills in dealing with all young people is evident wherever you look around at Wyonegonic…" from a camp counselor