Staff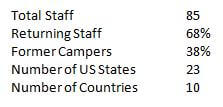 Wyonegonic is proud of our staff. We have a diverse group from around the world with an array of talents. Every staff member plays a vital role in our success.
Each staff member is expected to be a positive role model and conduct herself/himself in a professional manner. Staff should be devoted to working with children in a close community, with camper safety and health a top priority.
Want to join our staff? Wyonegonic hires quality female and male staff for a variety of summer positions. Please use the links at the left to learn more about us and the positions we offer.