Staff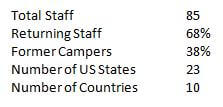 Wyonegonic is hiring for the 2021 summer camp season! We are proud of our amazing team of staff from around the world with an array of talents. Every staff member plays a vital role in our success.
Each staff member is expected to be a positive role model and conduct herself/himself in a professional manner. Staff should be devoted to working with children in a close community, with camper safety and health a top priority.
The potential for academic credit or internships can be available for those working at Wyonegonic. Please inquire with our Staffing Director to discuss the specific requirements of your program.
Want to join our staff? Wyonegonic hires quality female and male staff for a variety of summer positions. Please use the links to learn more about us and the positions we offer. The online staff application is a great place to start to help us get in contact.