Certification Trainings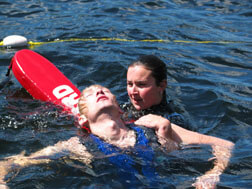 Wyonegonic plans to offer Ropes Course Certification, Canoe Instructor Certification and Archery Instructor Certification in June 2021.
Aquatics certification such as WSI and Lifeguarding will only be provided for Wyonegonic Staff and not available for outside registration. Aquatics training needs should be directed to the American Red Cross or other Trainers.
Please click on the course title below to read detailed information on each training. Read our policies carefully and use one of the links at the bottom of this page to register online. We are not accepting payments online. You will receive instructions on the registration form on how to pay for your courses.
Contact the Wyonegonic Office
if you have any questions.

Payment Policy
We are offering online registration; however, we are not accepting payments online. Your registration will not be confirmed until we receive payment. You can either mail a check to our office or call with a Master Card or Visa. Prices include course materials, instruction, room and board. Please use one form per participant.
Health Forms
We can accept a copy of your completed health form from your own camp. Please bring a copy of your completed camp health form to our office prior to your raining for review by our staff.
COVID-19 Protocols
Participants will need to be prepared to provide a negative COVID-19 PCR test taken within 3-5 days of arrival and to provide information on vaccination status. Participants are asked to practice low risk behaviors in the week prior to arrival and track any symptoms. Individuals will also be screened on arrival; this could include a Rapid Antigen COVID-19 test for non-vaccinated individuals. Those who are not feeling well with any suspected COVID-19 symptoms or have been exposed to COVID-19 are asked to stay home and contact us immediately.
NPIs such as masking, cohorting and physical distancing will be used as appropriate during the trainings to minimize risk.
Aquatics Trainings
Not offered for outside participants in 2021: Please note that all courses are physically demanding and occur in a fresh-water lake. Water temperatures in June can be cold. We strongly recommend that you bring a wetsuit. You should be in excellent physical condition, have strong swimming strokes, and be prepared for a swimming pre-test.
Clinic Participants under 18 years old
A waiver release signed by your parent/guardian is required for participants under age 18. Please contact the Wyonegonic Office to get a waiver.
Refund and Cancellation Policy
Cancellation refunds are permitted 14 days prior to the start of your course, less a $30 administrative fee. Within 14 days, cancellations will be refunded half of the course cost. Once a course has started there are no refunds for cancellations, no shows, or candidates with inadequate skills. This includes persons who fail a pretest or have incomplete work. We will discuss a refund for any participants who are not able to arrive due to suspected COVID-19 symptoms or exposures.
Certification Policy
Wyonegonic Camps does not guarantee that training participants will pass their course. The course instructor makes the determination for certification based on a participants adherence to prerequisites, pretest completion, and course completion after evaluating an individual's performance. Full attendance is required.
Accommodations
Most multi-day courses are residential and have both day and evening sessions, along with reading and course work. Living accommodations are provided in rustic cabins without electricity. Toilets and hot water showers are centrally located. Meals are provided in the camp's dining hall. Archery Instructor training is offered in a one day format with no overnight stay.
Wyonegonic Regulations
We appreciate your cooperation with the following: Wyonegonic is a non-smoking community; no exceptions will be made. We are alcohol free and have quiet hours in place for students to study. Residential students in multi day courses will be asked to stay on site for the duration of their training.
Click here for a printer friendly document of all sections.