Outdoor Living Skills
Wyonegonic believes strongly in the mission of the Center for Outdoor Ethics "Leave No Trace" (LNT) program. In its simplest form, "Leave No Trace" is about making good decisions to protect the world around you-the world we all enjoy. We have a Master LNT Educator on staff who provides the sixteen hour LNT Trainer Course for our Trip Leading  and Outdoor Living Skills (OLS) staff. This program teaches seven principles of outdoor ethics. Each new camper will learn these principles through the OLS curriculum. LNT skills are used throughout our Tripping Program.
Part of the Wyonegonic mission is that campers become comfortable living and recreating in the out of doors. A three pronged Outdoor Living Skills program is utilized for this process. Each camper learns these skills through daily instruction, via the cabin overnights and also  out of camp trips. Campers learn about their environment through ecology lessons both in camp and on field trips. They become knowledgeable in fire building, proper camping techniques, and map and compass use. They become proficient in the paddling, trim, balance and packing of a canoe.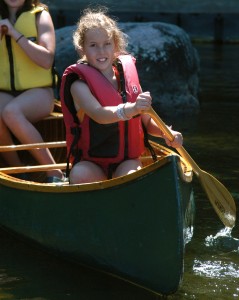 Each new camper participates in one week classes in canoeing, campcraft and ecology. The program provides the foundational skill necessary to ensure individual enjoyment and success at the beginning levels of the trip program.
Intermediate Campers have the opportunity to expand their Outdoor Living Skills through the Junior Maine Woodsman program. This includes two weeks of instruction culminating in a two-night trip where they prove their proficiencies as a small group while on a trip.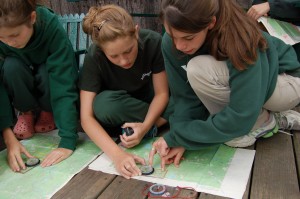 Senior Campers have the option to build on their Outdoor Living Skills through the Maine Woodsman and Junior Maine Guide programs. In the Maine Woodsman program, campers continue to improve their outdoor skills and knowledge. This includes participation in a two-night test camp trip where campers demonstrate their knowledge and expertise.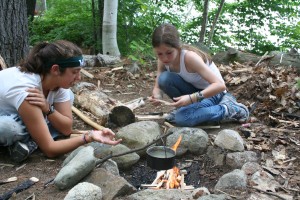 The Junior Maine Guide (JMG) candidates are required to pass a pretest of their Maine Woodsman skills before participating in the program. JMG candidates spend three weeks of instruction and practice in 20 specific "tests". They attend a State of Maine sponsored 5-day testing camp in the Rangley Lakes region along with candidates from other Maine camps. A camper who achieves the JMG certification can be very proud of her accomplishment. Many Wyonegonic JMGs have gone on to become staff members during their college years.
S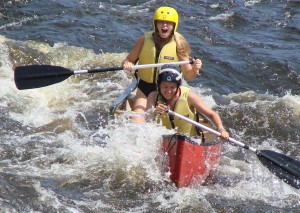 enior campers also have the opportunity to expand canoe skills through white water skill development prior to single day white water training trips; which in turn  provide the necessary skills for participation in the various week long river trips offered in Senior camp.