I recently departed Atlanta where the the American Camp Association (ACA) National Conference was held. Each year, I attend this conference to meet with other camp owners and directors, attend presentations on the latest trends in camping and youth development and also continue my volunteer work as the chair of the Governmental Relations and Public Policy Committee.
One of this year's key note speakers was Richard Louv,  author of Last Child in the Woods which launched the Children in Nature movement. Having heard him speak before, I was curious if there was anything new or was this a repeat performance. This time he spoke about ten ways that camps can have a positive impact in reducing the growing social Nature Deficit Disorder.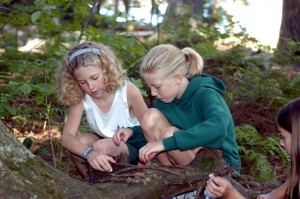 What struck me was something quite specific. "Fairy houses" came to mind. Junior Camp at Wyonegonic has been a haven for creative play for as long as I remember. The myriad of fairy houses, tucked in between tree roots; stumps, rocks and thickets surrounding the Junior playfield and the banks of the Junior creek are testimonial to our young campers creatively and actively engaged in nature. Often times, the creation of these fairy villages is not part of a programed period, but part of their free time play.
I encourage you to consider Richard's concept of providing your children the opportunity to spend unstructured time outdoors. The Family Nature Club Tool Kit is a valuable resource for you to share with your children. He reminds us that a grass roots approach to cultural change is a good idea, for ourselves and our future generations. Best wishes, Steve Sudduth.