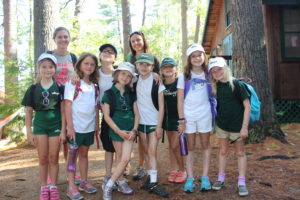 Any sensible mother would have realized an eight-year-old doesn't need help putting her shoes on. But you know how it is: you help with shoes one day, and then you help the next day, and then 2,920 days later you're still helping because, after all, it's what you've always done. Of course, at that rate, we'd still be making our kids' beds the day before they head off to Harvard. When I tried to help my daughter put her shoes on the day after she got home from her first half season at Wyonegonic and she refused indignantly, I realized what she knew intuitively: if she can do this by herself 25 days in a row in a cabin in Maine, she can do it for the rest of her life here in Brooklyn – or wherever else life takes her.
That's what I love about sleep-away camp.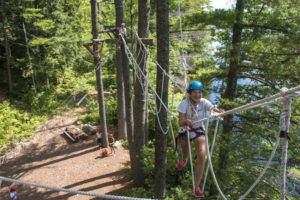 Once my child survived without me for three and a half weeks, I had an epiphany: other cooks could prepare food she liked, other caretakers could tuck her in, someone else could bandage her skinned knee, and the counselor who sang to her and her cabin-mates at night undoubtedly had a better voice than I do (because who doesn't?) She isn't and never again will be totally reliant on the care and comfort of Mom. Camp seems, to me, to be the perfect intermediate point between total dependence and total independence. It's the training ground for girls who will soon be young women who have to take care of themselves, the place where they are all apprentices mastering the skill of living full lives. Just as you wouldn't venture onto the high ropes course without a safety harness or the rifle range without ear protection, or out onto Moose Pond without knowing you could right a capsized kayak, you wouldn't go out into the world to rent an apartment or take a job or even approach a stove to make macaroni and cheese without the baby steps of learning how to do such things with supervision.
We are our children's first teachers, but we must not be their last ones. I can't think of any better education than that our daughter has received at Wyo, and I'm so glad we found it and took the leap of faith it took to send her off to the woods with strangers for three and a half weeks that first year (and seven weeks the next year – at her insistence!) I can only look forward to marveling at what she won't need me for when we pick her up next August and for many Augusts to come.
Sara K. Heard, mother of a two-year Wyo veteran.
Want to read more on this topic? See this Blog post from Maine Camp Experience. Or for additional parenting tips on developing independence see these articles. Parenting.com , Skillsyouneed.com