On Monday March 11th, I will be participating in the 2013 Wildcat Mountain 100k Vertical Challenge which is a benefit for the Make-A-Wish New Hampshire Foundation. I will be attempting to ski 100,000 vertical feet in under nine hours. I will need to make 48 runs down the Lynx Trail on Wildcat Mountain. As I started my fund raising for this event, I received a message from Barb and Jeff Hollis. Barb is a former Wyo Unit Director and Jeff is a former Winona counselor. They are the parents of Jenn Perkins, who has been at Wyonegonic for over 25 years,  and the grandparents of Linda, Cameron, Topher and Lauren Perkins who are Wyonegonic and Winona campers and staff members. They wished to support the Make-A-Wish Foundation by donating to my event.
It was then that I found out that Barb and Jeff, along with their family and friends, have been long time supporters of Make-A-Wish. For over ten years, they worked very hard to raise over $600,000 and made 100 kids' wishes come true. They did all this work in honor of their son, Christopher Hollis, who had his wish granted in 1993. Chris was in Pooh Corner at Wyonegonic from 1976 to 1985 while Barb was Intermediate Unit Director. Below is the story that Barb shared with me about Chris' wish.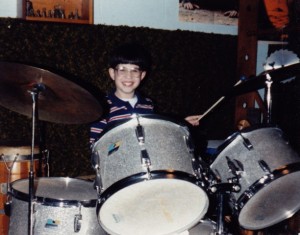 Chris suffered from neurofibromatosis and suffered a massive stroke after some neurosurgery back in 1990. The wish volunteer team came to Chris' house and asked him what his wish would be if he could have a wish. Chris explained that he wanted to meet "David Knight" (David Hasselhoff) and sit in the car "Kitt" from the show "Knight Rider" which was on display at Universal Studio in California. The team went back to Make-A-Wish and his wish was approved. It would take about six months to set it all up. In the mean time, the family, and his medical team decided this would be a great opportunity to challenge Chris to complete some goals from his physical therapy & speech therapy teams. He had been totally paralyzed from his stroke and was wheel chair bound, could not speak or breathe on his own and he had reached a plateau with his therapy. He was told that if within six months he could learn how to stand, pivot & transfer from his wheelchair, start breathing without his trach tube, and speak clearer he could meet David Hasselhoff and sit in the car "Kitt" . He immediately was motivated and started working harder. Within three months the entire medical team was amazed Chris had reached his goals, but the wish details had not been completed. We had to come up with some more goals!
Then another hurdle was thrown our way when it was discovered that David Hasselhoff was not going to be available to meet with his because of a conflict with his schedule. So the wish team came back and told Chris he could still go sit in the car "Kitt", but David was not going to be available. They asked what else he might want to do while in California. He decided he would like to see a taping of "Wheel of Fortune" and meet Vanna White, go to the taping of "Price is Right" and a show called "Supermarket Sweep". These were three other shows that Chris watched daily. These requests were set up immediately and we were all set to travel to California. (Make-A-Wish sets up all the details, pays for everything from tips, airfare, lodging, meals, rental car, souvenirs – there is no cost to the family.) Chris was able to invite his best friend Kris Doucette to go along as well.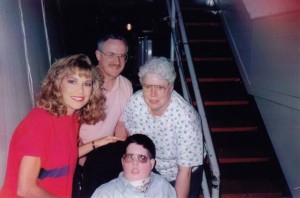 Three days before we were ready to leave, the Make-A-Wish team called to tell us that David Hasselhoff was going to be available to have brunch with us after all! Needless to say Chris was so excited I don't think he slept much before we left. He basically got two wishes as they didn't cancel the other events. The first event was going to see a taping of "Wheel of Fortune". Vanna White met us and gave us a VIP tour of the studio and introduced us to Pat Sajak and they had a tote bag of goodies for all of us. Chris loved watching how they produced the show and what happened behind the scenes. The next event was to see a taping of Price is Right and once again we were treated like VIPS and he was introduced to Bob Barker. The next morning was the taping of "Supermarket Sweep" where the producer and host met us with a sweatshirt with Chris' name on it. Chris was told he could come back when he could run and be a participant on the show someday.
Now it was finally time to meet David Hasselhoff and I had not seen Chris so excited for years to meet his TV hero. The hotel had set aside a private area for us to have brunch. David Hasselhoff arrived by himself and knelt down beside Chris' wheelchair for about the first 15 minutes talking to Chris eyeball to eyeball. At that time "Baywatch" was just taking off and David told Chris all about that show as well as Knight Rider , but the main focus was the show "Knight Rider" Hasselhoff had brought Chris souvenir items from both Baywatch and Knight Rider and had brought pictures which he autographed personally to every child and teacher in his school.. He stayed about 1½ hours with us and had brought his own camera with him as he keeps a file with a picture of every child he meets. During brunch David asked where we were going after that and Chris told him to go see "Kitt". David asked Chris to say "hi" to Kitt and also picked up his phone and called his favorite restaurant "Gladstone" on Malibu and asked them to give us his favorite table and Hasselhoff would pick up the tab.
So, now we headed off to sit in the car "Kitt" not knowing that "Kitt" would talk to you (not sure where they hid the person). Kitt said "hi" and asked Chris' name. Chris immediately told him that Michael (David Hasselhoff) had said to say hi when we had brunch with him. (I immediately said Chris was a Make-A-Wish child and that person immediately picked up on it and ran with the conversation). Needless to say Chris was totally blown away.
One of the best things that happened during the week we were gone was that Chris and his family were just a "normal family" on vacation – no treatments, no physical therapy, or no doctor appointments. This is one of the major goals of Make-A-Wish; to provide a break from all the unpleasant activities that children and their families deal with while dealing with life-threatening illnesses.
When Chris returned to his medical treatments and appointments the doctors and physical therapists could not believe what a new lease on life Chris was displaying. Two years later Chris passed away and one of his doctors told me that he thought Chris' wish had probably helped extend his life for those two years. As a family it was hard to accept his death, but we have such fond memories and tons of pictures that we can look back at and remember a "special week" that the Make-A-Wish had given us.
Because of such a positive experience, we decided to start a benefit golf tournament in Chris' name with all the net proceeds to go to the Make-A-Wish of Massachusetts to grant "wishes" to other children and their families. We were fortunate to have many friends and Boston Celtics great K.C. Jones who helped us. We had set a goal of granting 100 wishes and we reached our goal of raising $600,000 dollars over a period of ten years to fund those 100 wishes.
Please consider donating to the Make-A-Wish Foundation but clicking on this link to my event fundraising page. I hope that I can continue to support this event each year in honor of Chris and the Hollis family, and all they have done for some many deserving kids.