The annual Loon Echo Landtrust Hike and Bike Trek occurred on a beautiful fall day, Sept 17th at Pleasant Mountain. Bikers departed from Shawnee Peak Ski area in Bridgton for 25, 50 or 100 mile fundraising rides.  Wyonegonic director, Carol Sudduth and a few Wyo alums participated in the 25 mile loop.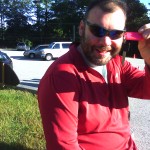 Hikers were transported from the ski area to the Southwest Ridge Trail in Denmark by Wyonegonic vans and volunteer drivers Chris Wentworth and Ceidleigh Bryce.  Hikers then traversed the entire length of Pleasant Mountain ending at the ski area for the celebration BBQ. Thanks and congratulations to all who participated and helped raise money for such a worthy cause! We are all so grateful that so much of Pleasant Mountain is now a protected preserve due to Loon Echo.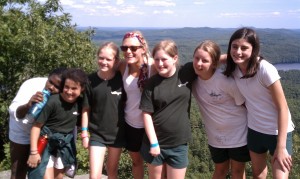 Generations of Wyonegonic campers and staff have loved hiking the trails of Pleasant Mountain and enjoying the beautiful views from the top!
Wyonegonic was also the host site for a recent Loon Echo board meeting and luncheon in August.  It is fun to share our beautiful view of Moose Pond and Pleasant Mountain with the people who volunteer their time for Loon Echo.