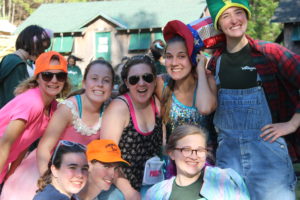 For Sunday night cabin time, one of the Inty counselors had her five girls dress up in costumes and create an artistic representation of themselves on a piece of cloth. They then paraded themselves around proudly letting their "freak flags fly."
Developing self-discovery and self-confidence is a huge component of camp. The American Camping Association has a plethora of articles citing this. Children are able to shed their school personas and embrace their uniqueness. Individuality is not only accepted but celebrated at camp. Girls can participate in activities they want to, can belt out a song if they have the urge to, and can wear footie pajamas if they prefer to and still feel safe and loved.
Understanding and accepting what makes you uniquely you is a challenging yet necessary element of growing up. It is what can cause difficulties and turmoil through all stages of life. Girls in particular may feel the pressure to conform to societal expectations and may create and hide behind a falsified persona. It is vital that girls feel supported as they walk down a path of self-discovery. There are many ways in which to do this including:
Enlisting the help of an older mentor
Encouraging new activities (and trying new activities with them)
Providing different social and academic outlets
Dialoguing about big decisions
Highlighting individual strengths
How lucky Wyonegonic girls are to have a place and people who encourage them to let their freak flags fly.
Rachel Kelly – former Unit Director